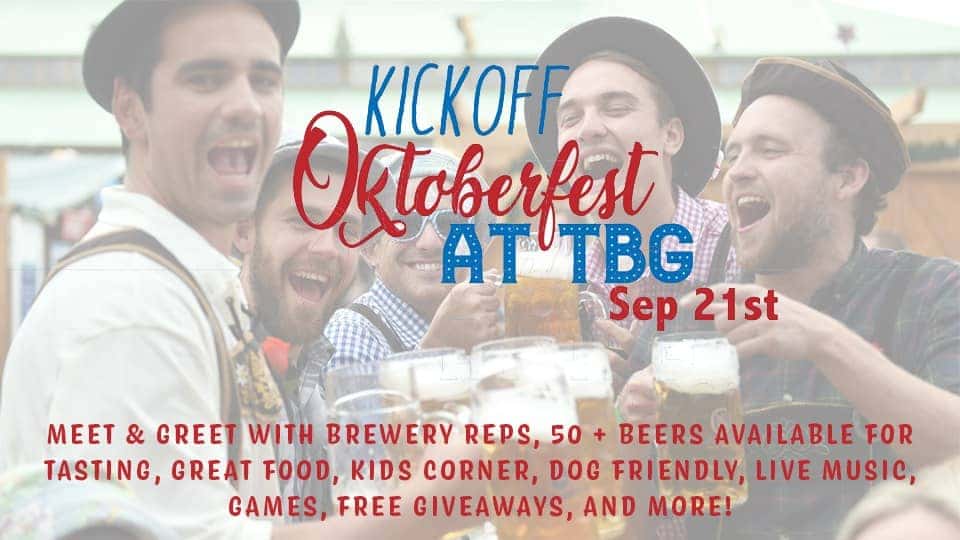 Help us get Oktoberfest started the right way! We'll be getting the festivities started with the "tapping of the keg," which is a special Hofbrau Ceremonial keg sent specifically from Germany to us for this special day! For only $10 you can receive access to all of our beers selected for the festival and 5 tasting tickets. Our Beer list is below, with more coming very soon!

Tickets:
Online: $10 ticket. Includes entry to festival and 5 tasting tickets.
At the Door: $20 ticket. Includes entry to festival and 5 tasting tickets.

Oktoberfest is the world's largest beer festival. Held annually in Munich, Bavaria, Germany, it is a folk festival running from mid or late September into October, with more than 6 million people from around the world attending the event every year. The Oktoberfest is an important part of Bavarian culture, having been held since 1810.

Beers will Include:
Tysons Biergarten Haus Lager
Hofbrau Original
Hofbrau Munchen Dunkel
Hofbrau Oktoberfestbier
HAcker Pschorr Oktoberfest
Sion Kolsch
Straffe Hendrik Bruges Quadrupel
Scaldis Peche Mel
Progusta
Rekorderlig Hard Apple
Huisbrouweij De Halve Maan Bruges Zot
Kasteel Tripel
Eggenberg Hopefenkonig Pils
DAB Dortmunder
Tucher Helles Hefe Weizen
Weihenstephaner Vitus
Schneider Aventinus
Rodenbach Rotating Sour
Delirium Tremens
Delirium Red
Eggenberg Samichlaus Classic

And more coming soon!
Check out our Facebook Feed