2nd Annual Festivus Celebration

Saturday December 15th – 8 pm
It's a Festivus (for the rest of us)! Come celebrate everyone's favorite pre-Christmas holiday with an airing of the grievances (using our Jagermeister, er, Festivus pole).
We'll also have a "re-gifting" table: bring in a gift you don't want and we'll donate it to charity! Take that, bad-gift-givers. Keep your fingers crossed for a Festivus miracle. It could happen at any time.
Click here to register for free!
2nd Annual Ugliest Sweater Party

Dig out the sweater Great-Aunt Helga got you seven years ago instead of the Xbox you wanted and show it off at the Biergarten for our second annual Ugliest Sweater Party! We're looking for the ugliest sweaters out there – the harder to look at, the better. 
The wearer of the ugliest sweater will go home with a $100 cash prize! 
The one with the ugliest sweater that gets the most cheers will be crowned the winner! So bring your friends along to better your chances of winning!
Winner announced at midnight. You MUST be registered on eventbrite in order to win! Don't worry, it's free!
2nd Annual Pajama Jam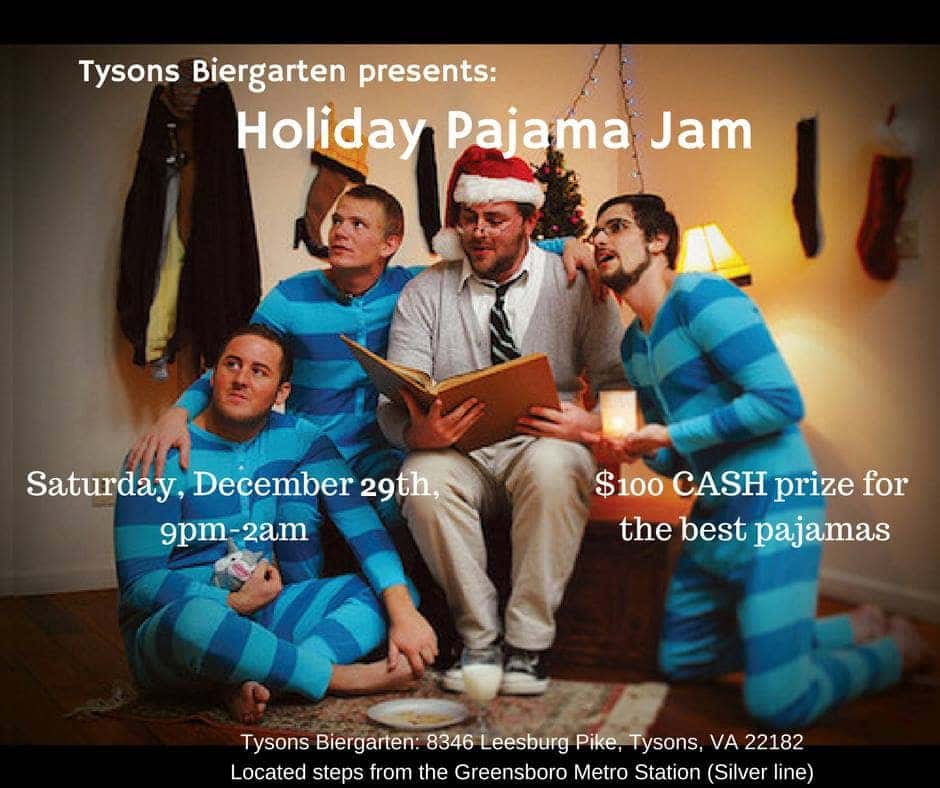 We're not ready to let the holiday season go, so we're having a Holiday Pajama Jam on December 29th! Break out those matching full-body jammies and come hang. No holiday jammies? No worries! We're open-minded. Party goes from 9pm-2am and it's freeeee! RSVP on Facebook here.
The wearer of the best pajamas will win a $100 cash prize, announced at midnight! Register on eventbrite to be eligible!
New Years Eve Masquerade Ball
Tysons Biergarten is hosting our second annual Masquerade Ball this New Year's Eve! Break out the fancy clothes and dust off those masks, this party is going all night long.
★★★Live Music with Jason Saitta in our main bier hall★★★
★★★DJ Maskell spinning: Dance, Top 40s, Hip-hop & more★★★
Tickets are starting at $20 for early bird registration and will go up from there.
✯✯✯✯✯✯Complimentary buffet from 7-9pm✯✯✯✯✯✯
★ Midnight Champagne toast
★ Complimentary party favors
★ Balloon Drop
★ Live broadcast of New York city on all 25 TVs, 3 projectors and TV Wall
★ Midnight Countdown
★ 3 Floors of indoor space
and more
This event is strictly 21+
Click here to get tickets to the best New Years Party in Tysons!