Saturday: Bier-O-Ween

Halloween aka All Hallows' Eve is a celebration observed in a number of countries at the end of October, the eve of the Western Christian feast of All Hallows' Day. It is "widely believed" that many Halloween traditions originated from the ancient Celtic harvest festival Samhain. Samhain and other such festival had pagan roots. Join us here at Tysons Biergarten for our Halloween party, aka Bier-O-Ween. We promise you that it will not be something for the "faint at heart".
★★★From 3:00 PM to 5:00 PM there will be Face Painting and pumpkin painting & crafts for the kids!★★★
★★★Live music with the following artists!★★★
★★★David Thong at 12 noon★★★
★★★James Stevens at 5:00 PM★★★
★★★DJ MADD OD at 9:00 PM★★★
★★★From 3:00 PM- 7:30 PM we will be having trick-o-treating for the kids! Greet our staff with Trick or Treat for a sweet treat!★★★
★★★9:00 PM- 2:00 AM we will have trick-o-treating for Adults over 21 ★★★
★★★Midnight – $500 Costume Contest ★★★
1st Place $300 Cash
2nd Place $150 in TBG Gift cards/Tokens
3rd Place $50 in TBG Gift Cards/Tokens
We have partnered up with a Local Brewery (to be announced) to brew us a special beer just for Halloween! That's right, we will have a delicious BLOOD drenched beer on tap all day (and night) on Halloween!
---
Sunday: Feargarten at the Biergarten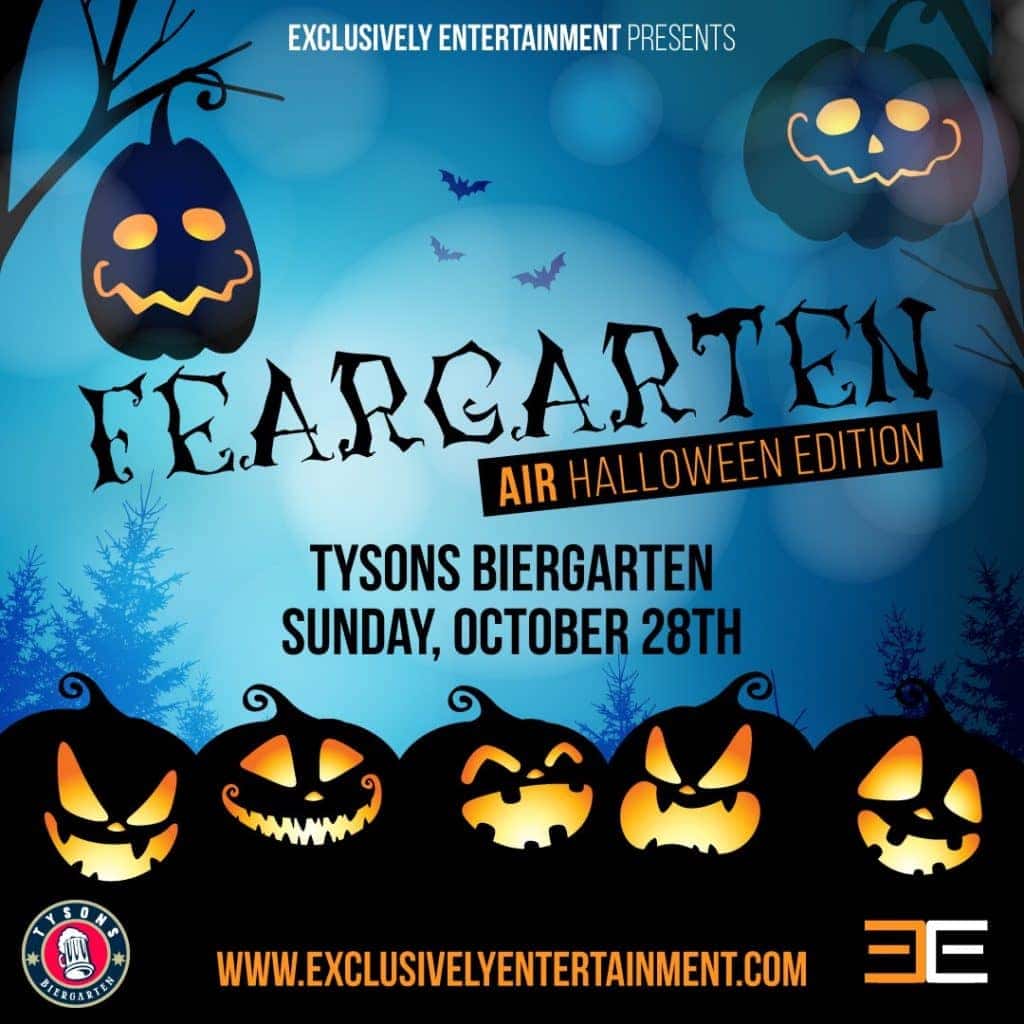 Exclusively Entertainment invites you to
Feargarten, the Halloween Edition of AIR
Get ready for the ultimate Halloween experience at Tysons Biergarten on Sunday, October 28th.
Our monster-mixing DJs will be spinning all of the top 40s and global hits on three frightful floors. Come and drink some dastardly draft beers and sultry spirits!
This party is 18+ and you MUST come wearing a costume for entry.
Featuring DJ Zander, DJ jWorld, and DJ Saam.
Register for FREE admission, if you dare….
---
Wednesday: Halloween at the Biergarten

Join us for a festive Halloween night here at the Biergarten!